Recently I interviewed Tennessee's John Henderson, the #1 rated DT prospect in the 2002 NFL draft. At 6'7" and 310-pounds, John is one of the most physically dominating defensive linemen to come through the draft in recent years. He is likely a top 10 pick in April and could go as high as #3 or #4. He finishes career at Tennessee with 20.5 sacks and was the Outland Trophy winner last year. He was named All-Conference twice and All-American twice in his career and now will take his talents to the NFL. Below is some info on John followed by our interview.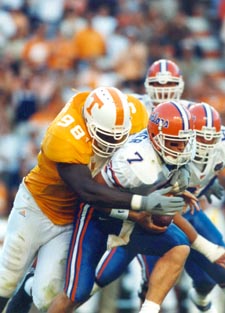 Name: John Henderson

School: Tennessee

Position: DT

Height: 6'7"

Weight: 310

40 Time: 4.85

Draft Status: Likely a top 10 pick. Is a physical freak. Moves like a cat at 310-punds and has unlimited ability. Great looking prospect.

INTERVIEW:

Q: What kind of person will an NFL team be getting when they draft you?

J.H.: They'll be getting a team player, a hard worker, and someone who wants to get better day after day. I'm also a winner and a leader.

Q: What do you have planned for life after football?

J.H.: I want to start a foundation to help kids. Kind of like a mentorship program. I want to show them how to do things right and how to succeed by being strong mentally.

Q: Obviously you know you're a top prospect in this draft, but how high do you think you can go?

J.H.: It all will come down to a team's specific need. I think I can go in the #3 or #4 slot. I also think it's possible that I go to Carolina at #2. I don't really worry about it though. I know that I'll be fine no matter what. I'm still going to be John Henderson no matter where I go.

Q: What are your biggest playing strengths?

J.H.: My ability to stop the run, my footwork, my ability to change direction, and my pursuit are my biggest strengths.

Q: Do you have any weaknesses that you are trying to improve on?

J.H.: I'd like to work on my pad level and winning the battle of leverage more consistently.

Q: Are you physically ready for the NFL?

J.H.: No Doubt! I have been waiting on this for years and now that it is here I am prepared to dominate.

Q: Are you mentally ready as well?

J.H.: Yes I am! I am prepared more now so thn I would have been last year had I come out early. I feel that the extra year helped me grow as a man and I am more mature now.

Q: What goals have you set for yourself as a rookie?

J.H.: I want to come in and be a force right away and help my team win. When you are a first round pick, especially a high pick, teams expect you to perform. I want to prove I am worth it.

Q: How do you want people to remember John Henderson once you retire?

J.H.: I want them to remember me as a hard worker, a player who gave his all on every play, and hopefully that will get me in the Pro Bowl and one day to the Hall of Fame.

Q: You would have been a top 5 pick last year had you left Tennessee. What made you stay and do you regret staying one more year?

J.H.: I don't regret it at all. My head wasn't ready to handle all the money and drama that comes with the NFL. I could have left and been a high pick, but I think I will get drafted just as high this year and I am more mature. I needed another year to grow as a person though. I think it was the best move for me.

Q: What do you make of the Donte Stallworth situation?

J.H.: It's just a bad situation for him. I feel bad because he's a friend, but he should have thought things through. He was listneing to too many people instead of just dealing with those who care for him and now he is stuck in a bad position. Hopefully he learns from all of this.

Q: Will you work out at the combine?

J.H.: No. I'm just doing the interviews and the physicals and I am leaving. I will workout at Pro Day.

M.G.: Thanks for your time John and good luck!!!

J.H.: Thanks alot Matt!