All-Pro Scouting Services, L.L.C.



Recently I conducted an interview with Washington State FS, Lamont Thompson. Thompson finished his career at WSU as their all-time interception leader with 24 and had a career high in INT's this year with 10. He was named to the first team All Pac-10 team and was an All-American as well. At 6'1", 214-pounds and running a sub 4.4 in the forty, Lamont is one of the best pure athletes available. Though he is a tremendous athlete, Thompson also has great football intelligence and understands his role as a FS. He's in a race with Ramon Walker of Pitt to see who will be the #1 rated FS in the 2002 draft. He has alot of ability and looks to be a future All-Pro. Below is some info on Lamont, followed by the interview.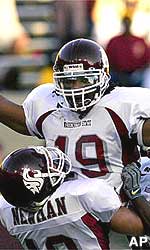 Name: Lamont Thompson

Position: FS

School: Washington State

Height: 6'1"

Weight: 214

40 Time: 4.39

Draft Status: 2nd to 3rd round area. Alot will have to do with how he checks out medically. Shows great range and ball skills. Good in coverage and makes plays.

INTERVIEW:

Q: What kind of person will an NFL team be getting when they draft you?

L.T.: They'll be getting a well respected, team leader who has the ability to make a team better instantly. I am a self starter and a hard working man who strives to get better everyday.

Q: What do you have planned for life after football?

L.T.: I want to work with kids in some capacity. I have a degree is Social Sciences, so I want to put that to good use. Maybe I'll start a mentor program.

Q: What have you heard about your draft status?

L.T.: I've heard I could go as high as the late first round, but will likely be a second rounder.

Q: What are your biggest playing strengths?

L.T.: My biggest strengths would have to be my speed, my hands, and my instints.

Q: Do you have any weaknesses that you want to improve on?

L.T.: I can improve in all areas of my game. There is always room to get better and I want to maximize my potential. I am just tipping the iceberg on what I can do.

Q: Are you physically ready for the NFL?

L.T.: I believe I am. I know my abilities and I feel confident that I can apply that every Sunday to help my team win. I know it's a big jump, but I accept that challenge.

Q: Are you mentally ready as well?

L.T.: I don't really know what's ahead of me, but I'm sure I will be able to handle it. I plan on watching how the veteran players act and model myself after them. I want to surround myself in a good atmosphere so I can learn and become a better player and person.

Q: What are your goals for your rookie year?

L.T.: I just want to add value to a team and be able to contribute on a weekly basis.

Q: How do you want to be remembered when your football career is over?

L.T.: I'd like to be remembered as the best FS ever and a guy who brought it every week.

Q: You sat out all of last year with a neck injury. What was the injury and how are now?

L.T.: The injury was a kneck sprain at frst, but it stiffened on me and the mobility wasn't there so I took a medical redshirt to rehab. I will be going to a specialist before I leave for the combine just to get everything checked out, but I am confident I am at 100%.

Q: Do you plan on working out at the combine?

L.T.: Yes I do. I will participate in everything.

M.G.: Thanks for your time Lamont and Good Luck!!!

L.T.: Thanks Matt! I appreciate it.







I'd like to thank Lamont for taking the time to speak with me. Good Luck Lamont!!!