Recently I was able to catch up with Pitt's junior FS prospect, Ramon Walker, who is busy with his pre-combine training in Atlanta. A three time All-Big East secletion, Walker has established himself as one of the best safety prospects available for the 2002 draft. The 5'11", 210-pounder is in a race with Lamont Thompson of Washington State to see who will be the #1 overall FS taken. Walker combines strength, speed, great instincts, and a passion for hard work. He is known throughout the country as a fierce hitter and will surely bring that aggression to the NFL. He has the potential to be a Pro Bowler for years to come. Below is some info on Ramon, followed by the interview.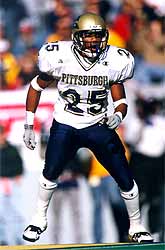 Name: Ramon Walker

Position: FS

School: Pittsburgh

Height: 5'11"

Weight: 210

40 Time: 4.48

Draft Status: 2nd round area. Shows excellent range and tackling abilities. Good instincts and anticipates well.

INTERVIEW:

Q: What kind of person will an NFL team be getting when they draft you?

R.W.: They'll get a hard worker first and foremost. A person who has a driving desire to win, a person who is hungry to succeed, and someone who is dedicated to my team.

Q: What do you have planned for life after football?

R.W.: I'd like to start a family and settle down. Family is important to me, so I can't wait till I can build one of my own.

Q: What have you heard about your draft status?

R.W.: When I first sent in my request for evaluation, I was told 2nd round. I'm guessing that that's the area I'll be drafted in. I just want to play fotball though. Nobody will remember me for when and where I was drafted. They'll remember me by how I played when I was there.

Q: What are your biggest playing strengths?

R.W.: My insticts, my ball skills, and my tackling are all strengths of mine. I'm also good in coverage.

Q: Do you have any weaknesses that you're looking to improve on?

R.W.: I don't feel I have any glaring weaknesses. However, I do think there is room for me to improve my all-around game.

Q: Are you physically ready for the NFL?

R.W.: Most definately! I have worked extremely hard to put myself in this position. This has always been a dream of mine, and I am just thankful that I will get my opportunity to play in the NFL.

Q: Are you mentally ready as well?

R.W.: I believe so. I don't really know what to expect yet, but from talking to some players that are in the NFL, I have a good idea of what is coming. I'm sure I'll be able to handle it though.

Q: What was the biggest reason you decided to forgo your senior year and enter the 2002 draft?

R.W.: I just felt it was time for me to take my game to that next level. I have accomplished alot in my college career and I want a new challenge. I also have a family I want to take care of, so it was just somthing I felt I had to do for me and everyone close to me.

Q: I hear you've been working out really hard down in Atlanta. Talk about your daily workout and how it benefits you.

R.W.: Yeah, I am down here in Atlanta working with Chip Smith. There are a ton of guys here, but we are all benefitting greatly from this. We do every drill under the sun, plus pool exercises. It's helped me more than anyone though. I am now weighing 210-pounds and I am in the best shape of my life. I am stronger, faster, and feel great.

Q: What do you want to accomplish as a rookie?

R.W.: I want to start and contribute right away. Just being on the field and making plays every Sunday will make me better.

Q: When your career is over, how do you want people to remember Ramon Walker?

R.W.: I want them to remember me as a hard worker who was one of the best free safties to every play.

Q: Do you plan on working out at the combine?

R.W.: I don't really know yet. I am training for it, so I will be ready, but that decision has not been made yet.

M.G.: Thanks for your time Ramon and Good Luck!!!

R.W.: Thanks Matt!