All-Pro Scouting Services, L.L.C.



Recently I conducted an interview with Oregon RB Maurice Morris. The 5'11", 210-pounder set a school record with 286 rushing attempts and also holds the school record with 2,148 rushing yards in a two year period. He helped lead the Ducks to an 11-1 record and a 38-16 win over Colorado in the Fiesta Bowl. He has been one of the most overlooked RB's this year, but his play has been steady throughout his career. Now, he is rated as a first day pick by most teams and should he workout well prior to the draft, he could solidify himself as a top 65 pick. Below is some info on Mo, followed by the interview.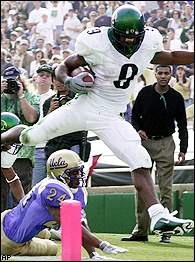 Name: Maurice Morris

Position: RB

School: Oregon

Height: 5'11"

Weight: 210

40 Time: 4.50

Draft Status: Could go in the 2nd round, but likely a 3rd rounder. Runs very well between the tackles, demonstrates good vision and balance, and catches the ball well out of the backfield.

INTERVIEW:

Q: What kind of person will an NFL team be getting when they draft you?

M.M.: They'll get a good character guy who is the same person on and off the field. I have a desire tow in and a desire to get better, so I will work hard to help get playing time and help the team win.

Q: What have you heard about your draft status?

M.M.: Honestly, I don't really want to know. I don't pay attention to the TV or anyone else. I just know what I have to do and the rest will take care of itself.

Q: What do you have planned for life after football?

M.M.: I'd like to be involved with helping troubled youth. I want to be there for them and show them how to do things the right way.

Q: What are your biggest playing strengths?

M.M.: My vision and balance are my biggest strengths. Another strength is my ability to make big plays when my team needs me to do something. I want the ball in my hands down the stretch.

Q: Do you have any weaknesses in your game that you're working on?

M.M.: I need to work on picking up blitzes, but I feel I am solid in all the other areas of my game.

Q: Are you physically ready for the NFL?

M.M.: For sure! I think my running style is perfectly suited for the NFL. My conditioning and preperation is second to none. I am ready for it.

Q: Are you mentally ready as well?

M.M.: Yes I am. The agency that is representing me(Octagon) is preparing me, so I am confident that I will be prepared when the time comes.

Q: What goals do you have set for your rookie season?

M.M.: I want to prove that I am an NFL caliber RB. You never get a second chance to make a first impression, so I will make sure I come in and go balls out all the time.

Q: What are your career goals?

M.M.: I'd like to make a few Pro Bowls and stay healthy.

Q: Do you feel that you guys(Oregon) deserved to play Miami for the National Championship? Are you bitter?

M.M.: I know we belonged in that game. The BCS needs to be changed because it was horrible that we were left out of that game. I was really upset at first, but there is no need crying over spilt milk, so I have moved on. I am focused on my future as an NFL player.

Q: Do you plan on working out in all of the combine activities?

M.M.: Oh yeah! I will participate in all drills. It's the best way for me to show the NFL that I am one of the top RB's available.

M.G.: Thanks for your time Mo! Good Luck!

M.M.: Thanks Matt!







I'd like to thank Mo for taking the time to do the interview. Good luck in the future MO!!!