All-Pro Scouting Services, L.L.C.



Recently I was able to conduct an interview with Minnesota's Ron Johnson. The 6'2", 218-pound Johnson has had a stellar career as a Golden Gopher. He leaves as arguably the greatest WR in Minnesota history. He has been named 2nd team All-Big Ten by the coaches the last two years and was named first team All-Big Ten by the media in 2000. He is one of the most polished receivers available in the 2002 draft, but his speed will remain a question until he runs for scouts in the next few weeks. He leaves with 198 career receptions, 3,000+ yards receiving, and 31 career touchdowns. If Ron runs well in workouts, he will likely be a top 50 pick. His forty will make or break his draft status. Below is some info on Ron, followed by our interview.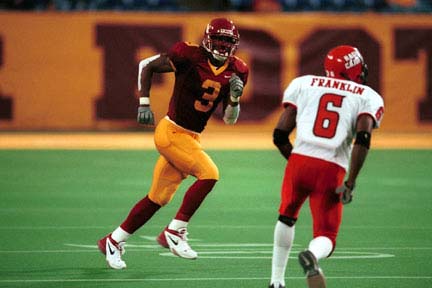 Name: Ron Johnson

Position: WR

School: Minnesota

Height: 6'2"

Weight: 218

40 Time: 4.65

Draft Status: 2nd-3rd round projection. Has the size that teams want, but lacks the big play speed. Uses body well and runs good routes. Solid WR prospect.

INTERVIEW:

Q: What kind of person will an NFL team be getting when they draft you?

R.J.: They'll be getting a good all-around man who is goal oriented and a hard worker. I graduated in 3 1/2 years and I think that should say something about my study/work habits.

Q: What do you have planned for life after football?

R.J.: I'd like to be a sportscaster and do some commentary. I've always been very interested in that and I think I could do very well.

Q: What have you heard about your draft status?

R.J.: I've heard I will be a solid first rounder or early second rounder if I can run well in workouts.

Q: When was the last time you were timed in the forty and what did you run?

R.J.: I ran a 4.51 a couple of weeks ago.

Q: What are your biggest playing strengths?

R.J.: My biggest strengths are my combo of size and strength, my hands, and my ability to go over the middle and make plays.

Q: Do you have any weaknesses in your game that you're looking to improve on?

R.J.: I'd like to get in and out of my cuts faster. I've been working hard on that and feel I have improved a great deal.

Q: Are you physically ready for the NFL?

R.J.: Yes I do! I am stronger and more durable than ever and I feel I hold an advantage over the other receivers because of that. I am also getting faster which will help me because my speed has been my only question mark.

Q: Are you mentally ready as well?

R.J.: I believe I am. I've been talking to scouts, coaches, and players and they have told me alot of things to help me. I know I can handle the adjustment.

Q: What are your goals for your rookie season?

R.J.: I want to put myself in the best position possible for success. I will do whatever it takes to contribute to help my team win.

Q: What about career goals? What do you want to accomplish in your career?

R.J.: I want to leave as one of the best overall receivers to ever play the WR position.

Q: After your junior year, you were thought of by many to be a lock for the first round. Now it appears your draft status has fallen off a bit because of questions about your true speed. Do you have any regrets at all about not leaving for the NFL a year ago?

R.J.: Not really. What's done is done. I wanted to graduate and I did. I feel very secure that I made the right decision for me. God has a plan, so I'm sure he will look after me.

Q: Are you planning on working out in 100% of the combine activities?

R.J.: That's what I am working out for everyday. I'm ready to show that I am one of th ebest receivers in this draft.

M.G.: Thanks for your time Ron and good luck!

R.J.: Thanks Matt! I appreciate it.







I'd like to thank Ron for taking the time out to do the interview. Good Luck in the NFL and beyond!!!