We're in the last leg of the draft process folks. Bowl games, all-star games, the combine, and most pro day workouts are all completed. The hype machine on some players still rolls on, but alot of the little guys have shown they belong. Over the next 3 weeks, APSS will be on a number of radio shows nationwide, as well as some internet chats. This will be your best source for wall-to-wall coverage of the NFL draft. Time is winding down. We're in the stretch run. I'm jacked! I hope all of you are as well!
Be sure to stay with APSS throughout the draft process, as we will be bringing you the most comprehensive coverage available.
Alex Who???
One of the most overrated players in this draft is Florida's DE, Alex Brown. Brown, who showed some good athleticism, was virtually non-existent all week in Mobile, where the 2002 Senior Bowl was held.

In weigh-ins, Brown checked in at 6'2 7/8", 254-pounds and looked like he hasn't lifted a weight in weeks. He looked more like a SAM LB than a DE. All week, he displayed some good pass rush skills, but that was all. Everyone knew about his pass rush abilities coming in, but not many of us expected to see how bad this kid really is as a DE.

Brown is a one dimensional player who couldn't stop the run to save his life. He was eaten alive all week long by Levi Jones of Arizona State. The only time Brown had success was when he lined up 3-4 yards outside of the tackle. The problem with that is, that's all he does well. If he does that at the next level, teams will exploit him and run directly at him.

During one-on-one drills, I was talking with a Redskin scout and he commented on how pathetic Brown was looking. I laughed and told him "He should have stayed in Gainsville and saved himself the embarressment." The scout then remarked on how poorly Brown uses his hands and lacked the upper body strength to shed blocks and make plays against the run. He was exactly right.

Brown was our seventh rated DE entering Senior Bowl week, and when we update this week, he will be lucky if he's considered a top 10 DE. He is a late second round pick at best and that may even be a stretch.

The bottom line is that Brown is a good athlete who has very good pass rush skills, but will NEVER be an every down DE in the NFL. He's got Kabeer Gbaja-Biamilia written all over him. A good third down rush specialist who can't do anything else.



HOT NEWS(3-29-02)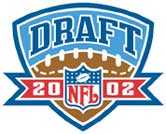 The All-Hype Team:

QB: Kurt Kittner-Illinois

RB: William Green-Boston College

WR: Jabar Gaffney-Florida/Antonio Bryant-Pittsburgh

FB: Jamar Martin-Ohio State

TE: Jeremy Shockey-Miami

OT: Mike Williams-Texas

OG: Toniu Fonoti-Nebraska

C: Melvin Fowler-Maryland

DE: Julius Peppers-North Carolina/Alex Brown-Florida

DT: John Henderson-Tennessee

OLB: LeVar Fisher-North Carolina State

ILB: Trev Faulk-Louisiana State

CB: Quentin Jammer-Texas/Lito Sheppard-Florida

FS: Edward Reed-Miami

SS: Roy Williams-Oklahoma
Latest Prospect Interview(2-24)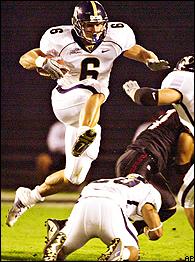 I recently conducted an interview with BYU RB, Luke Staley. Those of you who come to APSS frequently know that I was against Staley leaving school, so of course I had to ask the questions of WHY? To Luke's credit, he took on all questions head on and answered them openly and honestly which is exactly what I was hoping for. The 6'1", 228-pounder is working out daily trying to ready himself for his March 27th pro day at BYU. He has the size that NFL teams look for and he would have some success in a west coast style offense, but he needs to stay INJURY FREE, which has been his biggest knock. The next few weeks will determine Luke's future, but as of now, I see him as a 3rd rounder at best.
Draft News(3-5-02)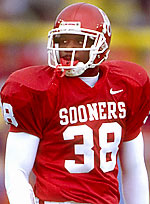 Talk about a kid who let the hype get to his head. Roy Williams, who many considered an elite prospect for the 2002 draft didn't make a good impression on teams at the combine this past weekend. One team alerted APSS before Williams was to weigh-in that the SS looked overweight(228-232) and didn't think he would do much in the workouts. Well, Williams only particpated in a limited capacity, but what he particpated in, he didn't do well. He did only 13 reps of 225 and interviewed VERY POORLY according to a number of sources I spoke with. Things went so bad for Williams that one scout told APSS that he may fall out of round one if he doesn't redeem himself soon. 3rd pick huh Mel? Good call!