Recently I was able to conduct an interview with Syracuse's highly regarded CB, Will Allen. Allen was a 1st team All-Big East selection in 2000 and he's also a top 3 CB prospect in the upcoming NFL Draft. He's been steadily moving up draft boards since his solid showing at the Senior Bowl. Now, with less than a month to go before the Draft, Allen has positioned himself to possibly be the first CB selected. He's a gifted athlete with a tremendous amount of upside. Below is some info on Will, followed by our interview.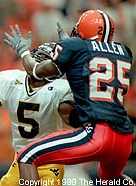 Name: Will Allen

School: Syracuse

Position: CB

Height: 5'10"

Weight: 193

40 Time: 4.29

Draft Status: Mid-Late 1st round projection

My View: In my opinion, I think Will could possibly be the first CB taken in the 2001 Draft. He's solidified himself as a top 3 corner with an excellent showing at the Senior Bowl, followed by a solid workout at the combine and at his Pro Day workout. He's got a nice blend of size, strength, and speed which is essential for today's NFL cornerback. He figures to be off the board sometime in round one. Will has the potential to be a shut down corner and a perrenial Pro Bowler. He's a great man. He's married with a 17 month old child and he's a very grounded, responsible man. He's got the entire package.


INTERVIEW:


Q: What kind of person will an NFL team be getting when they draft you?

W.A.: They'll be getting a very hard working, competitive person who knows how to win. I'm a very outgoing guy who has a great personality and people respect me. I can come in give the team a spark as a starter, a nickel back, or on special teams.

Q: What have you heard about your draft status?

W.A.: I've heard as high as the 14th overall selection and as low as the early 2nd round.

Q: What are your plans for after your football career is over?

W.A.: I'm not really sure. I know I'll be into something though. I have a degree in economics, so I'll probably be doing something with numbers.

Q: What are your three playing strengths?

W.A.: I'd have to say that my three biggest strengths are my competitive nature, my mind set, and my man/man cover skills.

Q: Do you have any weaknesses that you're looking to improve on?

W.A.: Well, I had a weakness that was noticeable, but I worked 2 1/2 months to work on it. I had a bit of a problem attacking the ball. Instead of going for the easy interceptions, I would just go for the breakup which is why my interception numbers were down.

Q: What are you doing to remain focused with the draft just 3 weeks away?

W.A.: I'm just working out and spending some down time with my family. I have a 17 month old baby, so I try and spend as much time around my family as possible.

Q: Are you physically ready for the NFL?

W.A.: Yes I am. I've been mentally ready for a while now. I considered leaving school early last year, but I wanted to come back and get better. I think it's payed off because I'm as ready as I'll ever be.

Q: Are you mentally ready as well?

W.A.: Yes. I've seen other players from Syracuse go to the NFL and I've heard their stories. I just prepare myself by knowing what's going to happen. I saw what happened with Keith Bullock last year and I just want to make sure that I'm ready for whatever happens on draft day and beyond.

Q: What was the combine like for you?

W.A.: I enjoyed myself. It wasn't as bad as I thought it would be. I went there with in the proper frame of mind and I did well. The physicals were long, but if you knew why you were there, than you should do fine. I knew my purpose was to show the NFL what Will Allen is about and I did that.

Q: What are your goals for your rookie season?

W.A.: I want to be an impact player. I'll be a nickel back, a starter, or play special teams. I know that I'll always be fighting for a roster spot, so I won't take anything for granted.

Q: What are your career goals?

W.A.: I want to help my team win a Super Bowl. The Pro Bowl is nice, but we play the game for the opportunity to win that ring.

Q: What teams have expressed the most interest in you thus far?

W.A.: It's really hard to say. Everyone has their poker face on now. I honestly don't know.

M.G.: Will, thanks for your time. Good Luck in the NFL!!!

W.A.: Thanks Matt! I appreciate your help.