Shortly after the Senior Bowl, I conducted an interview with Northwestern's standout LB prospect, Napoleon Harris. Napo, who is considered the #1 LB prospect available in the 2002 draft, was named 2nd team All-Big Ten this year and has posted two 100+ tackle seasons during his career. The 6'3", 251-pounder has also shown the ability to play DE, which will help his draft status. He excells as a pass rusher and demonstrates good closing speed when the QB is within his reach. The bottom line is that Harris has all of the tools to become an all-pro caliber player at the next level. Below is some info on Napo, followed by our interview.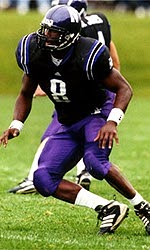 Name: Napoleon Harris

Position: OLB

School: Northwestern

Height: 6'3"

Weight: 251

40 Time: 4.58

Draft Status: Mid-late first round pick. Can also play some DE. Good pass rush skills and solid in coverage.

Interview:

Q: What kind of person will an NFL team be getting when they draft you?

N.H.: They're going to be getting a proven winner, a very hard worker, and a solid overall young man.

Q: What have you hear about your current draft status?

N.H.: I've heard I should be a first round pick. I'm not sure where in the first round, but I am confident that I will be a first rounder and hopefully the first LB taken.

Q: What do you have planned for life after football?

N.H.: I'd like to have a career in broadcasting. I think my personality and knowledge of sports will help me a great deal. I have a degree in Sports Broadcasting, so I plan on using it. I would really like to be like Stuart Scott. He's one of the most respected men in the business and he is great at what he does. He probably has the best personality of any broadcaster. Eventually, I'd also like to start a family and have a few little Napo's running around!

Q: What are your biggest playing strengths?

N.H.: I think my speed, my ability to cover ground, my strength, my tackling ability, and my ability to win the leverage battle.

Q: Do you have any weaknesses in your game that you'd like to improve on?

N.H.: I'd like to use my hands better. I am working on that now and have improved a great deal over the last few months.

Q: Are you physically ready for the NFL?

N.H.: No doubt about it! When I was at the Senior Bowl, I was able to see my competition and I knew then I was ready. I know I am capable of taking over a game on defense and I have been preparing for the NFL for years.

Q: Are you mentally ready as well?

N.H.: I believe I am. I spent four years in college and got a degree. I have grown as a a person and as a man. I know I can handle anything thrown my way.

Q: What are your goals for your rookie year?

N.H.: I want to be able to pick up the scheme and start. I'd also like to win the Defensive ROY award.

Q: What are your career goals?

N.H.: I want to be a dependable, hard worker, consistent, and known for my aggressive play. I'd also like to win some Super Bowls, go to a few Pro Bowls and hopefully get into the Hall Of Fame.

Q: Do you pattern your style of play after any NFL players, past or present?

N.H.: I think I am very similar to the late, great Derrick Thomas and Lawrence Taylor. I have that same kind of attitude they had and like them, when I see a QB, RB, etc., it's seek and destroy time!

Q: Do you intend on participating in all drills at the combine?

N.H.: That's what I am training for, so I intend on doing everything there. I'll be ready!

M.G.: Thanks Napo for your time and Good Luck in the future!!

N.H.: Thanks Matt! Talk to you later!