All-Pro Scouting Services, L.L.C.



Shortly after Ashley Lelie declared himself elegible for the NFL draft, I was able to conduct an interview with the 6'2", 185-pound junior receiver from Hawaii. Lelie was second in the nation in receiving yards(1714) to only Josh Reed and he led the nation in TD receptions(19). He's been a very consistent receiver for the Rainbow Warriors since he got their and has had two straight 1,000 yard seasons. He is projected to be a top 50 pick in April's draft and he was kind enough to sit down and talk with me on Friday. Below is some info on Ashley, followed by our interview.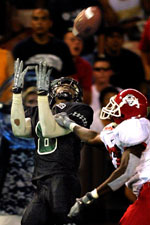 Name: Ashley Lelie

School: Hawaii

Position: WR

Height: 6'2"

Weight: 185

40 Time: 4.37

Draft Status: Solid first round pick. Could go in the top 15-20 picks.


INTERVIEW:

Q: What kind of person will an NFL team be getting when they draft you?

A.L.: They'll get a hard worker who goes all out in everything that I do. I will do whatever it takes to get better and am very coachable.

Q: What are your plans for when your football career is done?

A.L.: I'd like to be a high school history teacher and coach football.

Q: What have you heard about your draft status?

A.L.: Well, the NFL advisory board graded me out as a second round pick, but I have been told I could go in the first round if I workout well before the draft.

Q: What are your biggest playing strengths?

A.L.: My strengths are my height, my speed, and my playmaking ability.

Q: Do you have any weaknesses in your game that you'd like to improve on?

A.L.: I'd like to get stronger. I'd also like to get up to about 195-200-pounds. I'm at 185 right now.

Q: Do you feel you are physically ready for the NFL?

A.L.: Yes, I do. My speed and overall receiver skills are just as good as anyones. I feel I am ready for the challenge that NFL presents, but I also realize that it's a level higher than what I am used to.

Q: Are you mentally ready as well?

A.L.: I believe so. I am a very strong minded person.

Q: Why did you decide to forgo your senior season at Hawaii and enter the 2002 draft?

A.L.: I just felt I was ready. I did the best I could at Hawaii and just felt it was time to leave. I talked to my coach(June Jones) and he backed my decision 100%.

Q: Do you feel you're somewhat of an unknown receiver in this draft?

A.L.: I feel I am. I played at Hawaii and most of the country is sleeping when we are playing because of the time difference. The one game when I know the entire country was up and watching was against BYU and I really did well. That got my name out more.

Q: Do you compare yourself to other receivers in the NFL today?

A.L.: No, not at all. I admire their work ethics, but I am my own man and I want to be known for that. I am not trying to mimic other receivers. I want to be Ashley Lelie.

Q: What are your golas for your rookie year?

A.L.: I'd like to be names the starting WR for whatever team I am drafted by and immediately contribute in any way possible. I just want to win.

M.G.: Thanks for your time Ashley and Good Luck!

A.L.: Thanks alot!






I'd like to thank Ashley for talking to us and I wish him all the best in his football future!!!