All-Pro Scouting Services, L.L.C.



On the day after OU slammed Kansas, I was able to talk to their standout true freshman DT, Tommie Harris. Harris is a 6'4", 285-pound phenom from Killeen, TX where he was named the Rivals 100 top DT in the nation. He was also named All-American by Prep Star, Rivals 100, Tom Lemming, Max Emfinger, USA Today, and Fox Sports. A highly decorated recruit who chose to play his college ball at Oklahoma instead of Texas. He's a lock to be a freshman All-American and he could be 1st team All-Big 12. The future is bright for this young man. It's scary that he has just tipped the iceberg of his talent. Below is some info on Tommie, followed by our interview.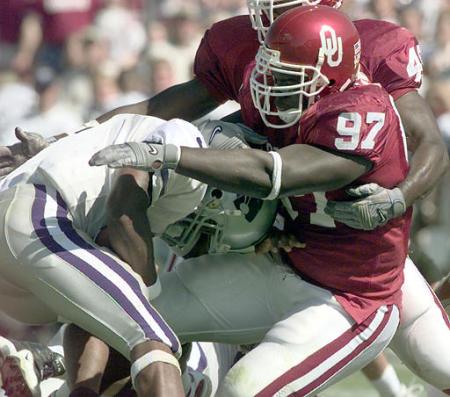 Name: Tommie Harris

School: Oklahoma

Position: DT

Height: 6'4"

Weight: 285

40 Time: 4.72(best)

Draft Status: Although Tommie is just a true freshman, he is already a top DT in the country. He looks to be a lock to be a future top 10 pick. Great talent!

My View: What a great kid. A kid with great personality and who is very talented. He is also a man of faith. His father is a preacher in Texas and Tommie makes sure he goes to church every week. He comes from a great bloodline of athletes. His cousin Stockar McDougle was a former OU player who was a first round choice a few years ago by Detroit. One of the best young defensive players I have seen in years at his position.


Q: What made you chose to play your college ball at Oklahoma?

T.H.: It was my position coach. He's a great coach and I just felt comfortable with him and the entire OU program.

Q: How close are you to your cousin Stockar McDougle?

T.H.: Very close. He's like a brother to me.

Q: Are you happy with your play thus far?

T.H.: Yes. I am happy, but I am disapointed in the number of sacks I have. I just got my second sack against Kansas, but I should have like 7 or 8.

Q: What are your three biggest playing strengths?

T.H.: I'd have to say my pass rush, my ability to play the run, and my strength.

Q: Do you have any weaknesses in your game that you want to improve on?

T.H.: I'd have to say my tackling needs to get better. It all goes back to my sack numbers. I should have more than two.

Q: How is playing in the Big 12 Conference different than playing 5A high school football in Texas?

T.H.: It's really different. In high school, there are like 5 really good people on each team, but here, everyone is good, that's why they are all on scholarships. These offensive linemen know where I'm going before I do anything. It's wild.

Q: Who do you model your game after?

T.H.: I try and do my own thing now, but when I have taken alot from Warren Sapp and John Randle. They're two of the best ever.

Q: How long have you played DT?

T.H.: I've played DT since I was 6 or 7.

Q: What are your goals for this season?

T.H.: I want to be a Freshman All-American. I want to help OU get to a top BCS bowl game. I want to succeed on and off of the field, and someday win the Outland Trophy.

Q: What is your greatest football moment?

T.H.: When I was in high school, I hit the QB and the ball went in the air and I caught it, then I lateralled the ball to the other DT on my team and he ran in for a touchdown. It was a true team effort.

Q: What do you do in your spare time?

T.H.: I go to church alot. My father is a preacher back in Texas, so I am very spiritual. I like movies, and dating, and just chill.

Q: Are you a ladies man?

T.H.: Of course!

M.G.: I have been evaluating collegiate players for years now, and you are the most impressive young defensive tackle I have seen in years. You have a very bright future. Good Luck Tommie!

T.H.: Thanks Matt!







I'd like to thank Tommie for his time and I wish him luck this year and beyond. This kid has a tremendously bright future ahead.