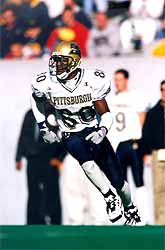 Name: Antonio Bryant

School: Pittsburgh

Position: WR

Height: 6'2"

Weight: 192

40 Time: 4.50

Draft Status: Who knows? This kid has top 20 talent, but his off field problems may land him in the 2nd, maybe even the 3rd round.

My View: Antonio is very confident in his skills as a football player. He knows he is good, but he is also a humble young man who puts God above all. He's also a very emotional person who feels he has alot to prove to the world. Leadership qualities are there, but he hasn't figured out how to use them in a constructive way. If he can show maturity, he will be a solid NFL receiver.


Q: What did you do over the summer to make yourself a better receiver?

A.B.: I did alot. I did weight lifting and added some muscle, I worked alot on my route running and my hands, and I got tougher mentally.

Q: Are you the leader of this Pitt team?

A.B.: I think I am. I've always been a leader on this team, but the players and coaches didn't know how to take me. I'm from Miami and down south, we do things a little differently. I am very vocal. I think they have gotten used to it now, but I am the leader.

Q: What are your biggest playing strengths?

A.B.: I run good routes, I have good hands, and I attack the ball and make the big play when my team needs me.

Q: Do you have a weakness that you want to improve on?

A.B.: (Laughing) I have small legs. I'm trying to bulk them up, but they are naturally small.

Q: Do you think you have helped put Pitt football back on the map?

A.B.: I think so. I know I have tried. We still get little respect, but I think we will turn the corner and be considered an elite Big East program.

Q: You've had some well documented problems off of the field. Could you tell let us in on some of the things that have happened?

A.B.: Well, my time here in Pittsburgh has been very interesting to say the least. A couple months ago, I was arrested by campus police for resisting arrest because they thought my car was stolen. I have a 1984 Caprice that I bought for $1100. Who would steal an old Caprice? They made a big deal and roughed me up because I had parked in a handicapped spot. They put me in a holding cell for like two hours. Come to find out, they had NO IDEA who I was and when they found out, they asked me for my autograph. Stuff like that gets under my skin. The school is always talking about my bad pub, but they are quick to take the good pub that I bring them. It's kinda messed up.

Q: Is this your last season at Pitt?

A.B.: I think it is, but anything can happen. I almost decided to leave last year, but I wanted to get better and help my team win the Big East title and get to a bigger bowl.

Q: How is your relationship with Walt Harris?

A.B.: He's a different kind of coach for me. Our football relationship is good. We are like Romeo and Juliet, but personally, he doesn't understand me. I like to have fun and do my thing out on the field. I just don't have that bond with him that I had with my high school coaches.

Q: When you look into the future, what do you see for yourself?

A.B.: I see me playing on Sundays and making big plays. The NFL has always been a dream of mine. I know God is watching over me and that's all I really need in my life. I've been through alot here at Pitt and I have overcome it all. I think that the NFL is the next thing I want to triumph.

M.G.: Antonio, I want to thank you for your time and I wish you all the best in your future!!!

A.B.: Thanks alot!