Recently I was able to sit down with the physically gifted CB prospect from Arkansas-Pine Bluff, Dante Wesley. Wesley is a 6'0", 212-pound specimen with 4.45 speed and good cover skills. He's a transfer from the University of Arkansas where he began his career at WR. He's only in his second full season at CB and he has already established himself as a legitimate first day posibility. Below is some info on Dante, followed by our interview.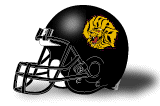 Name: Dante Wesley

School: Arkansas-Pine Bluff

Position: CB

Height: 6'0"

Weight: 212

40 Time: 4.45

Draft Status: Legitimate first day possibility. Could go as high as 2nd round with excellent post season performances.

My View: Dante is a great kid and a great player. He's only tipped the iceberg on his potential as a CB and with proper coaching, he could be a very solid lock down type CB. He is someone to keep an eye on as the draft nears. A very special talent.


Q: What kind of person will an NFL team be getting when they draft you next year?

D.W.: There going to be getting a very good all-around person. I'm a very intelligent guy, I'm a winner, and I'm very coachable.

Q: What are your plans for after football is over?

D.W.: I want to have my own record company. I love music and it's something I'd like to do once football is over.

Q: What are your goals from now until draft day?

D.W.: I want to win the SWAC title, be a first round pick, and eventually win a few Super Bowls.

Q: How did the terrorist attacks of September 11th affect you personally?

D.W.: It let me know how precious life truly is. That could have happened to any of us, but it didn't. We need to all rally and be strong and do what we can to help the people in need.

Q: Are you mentally ready to play in the NFL?

D.W.: Yes I am ready. I've gone through alot and I've made it this far. I know I am ready.

Q: Are you physically ready as well?

D.W.: Oh yeah! Everything I have done up until now has been done to help physically prepare me for the NFL. My body has developed and my skills have developed over the past few years and I am ready to explode.

Q: What are your three playing strengths?

D.W.: My biggest strenth is my man cover skills, followed by my speed, and my strength.

Q: Do you have any weaknesses that you are trying to improve on?

D.W.: I think there is always room to improve and I will do anything to become a better player.

Q: Do you think you have been overlooked because you play in the SWAC?

D.W.: Definately! It's hard for scouts to evaluate how good we are because the coaching at this level isn't what it should be. We are basically out there using our God given talent, but our technique isn't up to par with the bigger schools. I feel I have the skills to be rated with those bigger named players.

Q: Do you feel your name belongs up there with the Jammers, Sheppards, and Echols of the world?

D.W.: I feel I belong. I played at an SEC school for two years, so I know how the big boys play. I feel competitioon brings out the best in me, so in my mind, if I went up against those big SEC receivers, I could be just as successful against them as I am against the SWAC receivers.

Q: What is your greatest football moment?

D.W.: Playing in Neyland Stadium against Tennessee. It was great to play in front of 108,000 people.

Q: What do you like to do when you are not on the football field?

D.W.: I just relax, listen to music and talk to my family.

Q: What CD is in your disc player right now?

D.W.: Jay-Z! The new one. I love all kinds of music though.

M.G.: Dante, thank you for your time and I wish you all the best the remainder of this season and in your future as an NFL CB!

D.W.: Thanks Matt! I appreciate it.