All-Pro Scouting Services, L.L.C.



Recently I was able to conduct an interview with Kansas State's standout WR prospect, Quincy Morgan. Morgan, who led the Wildcats in every receiving category in his two seasons at KSU, is now poised to make the move to the NFL. At 6'0", 209, and running an impressive sub 4.4/40, Morgan possesses a great blend of size, speed, strength, and the ability to run after the catch(RAC). He's a two time All-Big 12 selection and was named to the All-American team in 2000. He's an impressive looking WR whose got the potential to come in and make plays immediately. Below is some info on Quincy, followed by our interview.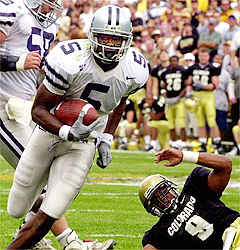 Name: Quincy Morgan

School: Kansas State

Position: WR

Height" 6'0"

Weight: 209

40 Time: 4.38

Draft Status: Mid-Late 1st round projection

My View: Quincy is a very nice, laid back, intelligent young man. He's got top 15 talent and will be a steal if he goes in the late first round. He's got the size/sped combo that NFL offensive coordinators love. Quincy has the ability to turn a short 5 yard pass into a 75 yard TD. He's one of the best receivers in running after the catch. He'll be able to step into any offensive system and make plays.


INTERVIEW:


Q: What kind of person will an NFL team be getting when they draft you?

Q.M.: On the field they get a competitor, a hard worker, and a proven winner. Off the field, they'll get a well rounded, nice man who will never get in trouble.

Q: What have you heard about your draft status?

Q.M.: It varies week to week. I've heard anywhere from the mid first to the early second round. Only the Lord knows where I'll go. He has a plan.

Q: What are your plans for after your football career is over?

Q.M.: I want to start my own business so I can be my own boss. Something like what you have. I want to be able to work from home, spend time with the family and work when I want to work.

Q: What are your three playing strengths?

Q.M.: I think my ability to run after the catch is my greatest assett, followed by my ability to stretch the field and my physicality.

Q: Do you have any weaknesses in your game that you're looking to improve on?

Q.M.: I don't think I have one weakness that stands out, but I do feel I can improve in all areas of my game.

Q: Are you physically ready for the NFL?

Q.M.: I believe I am. I have the size, strength, and speed to come in and play right away. I've been preparing my body for this moment for years. I know I'm ready to step in and make a difference.

Q: Are you mentally ready as well?

Q.M.: Yes. I went to a school that played in a hard conference(Big 12) and we had to be mentally prepared ever week. I think I'll be able to adjust to the different things the NFL will present to me. I'm a good learner and very coachable as well.

Q: With the draft just 3 weeks away, what are you doing to stay focused?

Q.M.: I surround myself with my family and friends. I work out everyday and come home and play my Playstation and talk with my best friend.

Q: With David Terrell and Koren Robinson getting all the hype as the two best receivers in the draft, how do you feel your game stacks up with their's?

Q.M.: I think my numbers speak for themselves. Both those guys are excellent players, but I don't see what they have on me. I feel we're all big, physical, and fast receivers, but I think I have the full package. I wish those guys well.

Q: What was the combine like for you?

Q.M.: It was a great experience. I don't think I'll ever forget it. It was great meeting all the different receivers from around the country and meeting all the coaches and GM's was very nice. I learned alot.

Q: Can you be an impact player in your rookie season?

Q.M.: Yes I can. I think I'm one of those guys who can make something happen whenever the ball is in my hands. I'm a playmaker and that's what I'll do at the next level.

Q: What are your goals for your rookie year and beyond?

Q.M.: I want to be known as a steady, consistent receiver who made plays. I'm going after that Super Bowl ring though. That's what I want.

Q: What teams have expressed the most interest in you thus far?

Q.M.: The Saints, Jets, Patriots, Seahawks, Chiefs, and Dolphins, but there's no telling what will happen between now and April 21st.

Q: What team did you grow up watching and wanting to play for?

Q.M.: The Cowboys. That's my home team. Everyone loves the Cowboys in Texas.

Q: Would you like to play for them now?

Q.M.: Sure. It wouldn't hurt to play for a team close to home. I honestly don't care where I go. I am blessed to have this opportunity to live out my dream.

M.G.: Thanks for your time Q! Good Luck in the future!!!

Q.M.: I appreciate it. It was good talking to you Matt.







I'd like to thank Quincy Morgan for taking the time to answer all of my questions. I'd also like to thanks Quincy's agent, Brian Overstreet for setting the interview up. Good Luck in the NFL Quincy!!!