Recently I was able to conduct an interview with Eric Kelly the cornerback from Kentucky. At 5'11", 200, and running a sub 4.4/40, Kelly has shot up draft boards in recent weeks. He started his climb up the CB charts with a strong showing at the combine, followed by a very impressive workout for scouts at UK's Pro Day. He's also a very religous, grounded young man who has his head in the right direction. Below is some info on Eric, followed by our interview.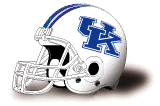 Name: Eric Kelly

School: Kentucky

Position: CB

Height: 5'11"

Weight: 200

40 Time: 4.38

Draft Status: 3rd-4th round projection

My View: Eric is one of the most athletic players in the draft. He's been extremely impressive over the past few weeks and has gained high praise from a number of NFL scouts. He's got the size, speed, and man/man cover skills that will keep him in the NFL for a long time. In the right situation, Eric can become a contributor immediately.


INTERVIEW:


Q: What kind of person will an NFL team be getting when they draft you?

E.K.: They'll be getting a top CB. A guy who can come in and start, a guy who's a very hard worker, someone who gives 100% in everything I do. I'm a man of God, so the Lord and my family come first.

Q: What have you heard about your draft status?

E.K.: I've heard anywhere from the 2nd round to the 4th round, but I'll just put it in God's hands and he'll take it from there.

Q: What are your plans after your football career is over?

E.K.: I want to do work in the community with the kids. I think it's important for them to have a positive male figure in their lives, and I want to give that to them. As long as I can raise and support my family, I'll be happy.

Q: What are your three playing strengths?

E.K.: My three strengths are my athletic ability, my speed, and my man/man coverage.

Q: Do you have any weaknesses that you're looking to improve on?

E.K.: I want to improve my ball handling skills. I've been working on that everyday. It's spring break at school and me and a few teammates are working out everyday trying to make it happen.

Q: Do you feel you're mentally ready for the NFL?

E.K.: Yes, I feel I'm ready. I've played football and been looking forward to the NFL for years now. I've been getting some good advice from my agent, who's a former NFL player(Ray Savage). He's gotten me focused and ready to go.

Q: Are you physically ready too?

E.K.: Yes, DEFINITELY! I have the ability to be a dominating CB. I was a dominating corner in one of the best conferences in the country when I was playing at or near 100%. With good coaching, I feel I can become a Pro Bowl player.

Q: Do you feel you've been overlooked at the CB position?

E.K.: Not really. Scouts were at UK to see me play every game for the last two seasons. They know who I am. I wasn't in the best situation here at Kentucky to showcase my abilities to a national audience like the other top CB prospects. As long as the NFL knows who I am, I'll be fine, and they know.

Q: What is keeping you focused with everything going on around you?

E.K.: God. The Lord keeps me focused and guides me.

Q: What was the combine like for you?

E.K.: It was great. I was used to seeing the scouts and all, but it was good just to be there with other players at my position. In my opinion, the ONLY CB that was in my category at the combine was Will Allen. He's the real deal. I think I shined in Indy and now I plan on taking that next step.

Q: How do you feel you rank with guys like Smoot, Allen, Fletcher, and others?

E.K.: I haven't seen Fletcher, but from seeing other CB's, I can honestly say that I'm the most athletic corner in the country. I have first round ability, but guys like Smoot played in a great defensive system. I'm not knocking Fred because he's a great corner, but he was helped out by being in an aggressive defensive sheme.

Q: What are your goals for your rookie season?

E.K.: I want to contribute in any way I can. I feel I can come in and become a starter relatively early. I have long term golas as well. I want to be a feared CB. I want to play for one team and be known. The Pro Bowl is in the future for me too.

Q: What teams have expressed the most interest in you thus far?

E.K.: The Saints, Bucs, Bears, Packers, Chargers, and Browns.

Q: Is there an NFL team you really want to play for?

E.K.: Not really. I was brought up as a Bears fan, but I want to play for a team that wants me to be a part of something special.

Q: What were your Pro Day results?

E.K.: My results were:
40 Time: 4.38
Vertical: 36"
Long Jump: 10' 0"
225: 15 reps

M.G.: Thanks for your time Eric! I had fun chatting with you. Good Luck!

E.K.: Thanks Matt for your help.