Recently I was able to conduct an interview with Chad Johnson, the big play WR from Oregon State. Johnson, who is just finishing his first season of D-1 football, has made some noise while in Mobile, Al for the 2001 Senior Bowl. I was lucky enough to be on the field to see the show Chad put on and it was quite impressive. At 6'1", 193, and running a 4.45/40, Johnson has all of the physical tools to become a solid NFL receiver. Below is some info on Chad, followed by our interview.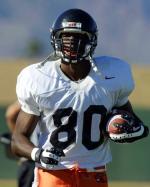 Name: Chad Johnson

School: Oregon State

Position: WR

Height: 6'1"

Weight: 193

40 Time: 4.45/40

Draft Status: Late first round/early second round pick.

My View: Chad is a very confident and talented young man. AFter on one year of major college football, he has shown the he is an elite receiver and is ready to make the jump to the NFL. He's got nice size and good straight line speed. He could benefit by adding some weight, but overall he possesses some outstanding physical gifts. He could become an instant impact right away.


INTERVIEW:

Q: What kind of person will an NFL team be getting when they draft you?

C.J.: They'll get a hard working man who knows how to win. I'm a play maker, which is what the NFL wants now. Off the field I'm just a quiet guy who just likes to chill at home. I work out alot too.

Q: What have you heard about your draft status?

C.J.: I've heard I'm a first round pick, but I don't know how high yet.

Q: What are your plans after your football career is over?

C.J.: To be honest, I haven't even thought about it yet. I'm just so excited that I have the opportunity to play professional football, that it's all I ever think of.

Q: What are your three playing strengths?

C.J.: I'd have to say my size/speed combo, my route running and ability to become a very physical receiver. I'm 6'1, or 6'2 so my height allows me to do alot as well.

Q: Do you have any weaknesses?

C.J.: What weaknesses(laughing)? As of right now, I don't have any weaknesses as a football player. I take great pride in my ability to run precise, disciplined routes and that used to be my biggest flaw. I don't really think I have a weakness in my game.

Q: Who do you credit for your overall development as a man?

C.J.: Without a doubt, it's my grandmother. She's been the light of life since I was a young man and without her guidance, there's no telling where I would be today. I used to give her a hard time, but she was always there for me when I needed her. Bottom line, I'm here now because of her.

Q: Do you feel you're mentally ready for the NFL?

C.J.: Yes I do. I've been through alot of hardships in my life and they have all helped me to become a better man. I think that they have also helped me to become mentally strong. I know I am prepared to handle things, but at the same time, I know it's all a learning process.

Q: What about physically ready?

C.J.: Oh yeah!!! I was born to play WR in the NFL. I think I'm ready to step in and help my team win and win alot. I just welcome the challenge that the next level will present to me.

Q: Do you feel you're the best WR in this year's draft?

C.J.: I think I am. ALl the wide receivers rated ahead of me are good, but I think I bring everything to the table. I can catch, run good routes, block, you name it, I can do it.

Q: Are you aware of how much your life will change in the near future? What are you doing to prepare yourself for it?

C.J.: I know what's about to happen and I am ready for whatever comes my way. I just try to stay focused and humble and keep in mind that I'm here because of God. I've been preparing for this my whole life and I'm ready to show the worl what I'm all about.

Q: What are your goals for the combine?

C.J.: I want to run a 4.3/40 yard dash and just blow away the competition. I think a 4.3 is automatic, but I've been working on my technique and I'm ready to fly.

Q: Can you be an impact player in your rookie season?

C.J.: I know I can be an impact player. I plan on becoming a starter from day one in an NFL camp. My goals are just to help my team win and to contribute as much as possible. I just hope I can remain healthy. The only inury I have ever had was a sprained ankle.

Q: Did you go to the Senior Bowl looking to prove yourself?

C.J.: No, I went there for a job interview. I wanted to let them know I was the best and that my game is perfectly suited for the NFL. It's just a matter of time before everyone realizes that.

M.G.: Thanks for your time Chad. Maybe I'll see you in a Saints jersey next year?

C.J.: Thanks Matt! I'd love to play for New Orleans.