Recently I was able to conduct an interview with Syracuse linebacker, Morlon Greenwood. Morlon is one of the fastest LB's in this draft clocking at a 4.42-4.45/40. Born in Kingston, Jamaica, Morlon moved to the U.S. when he was 11. He grew up a soccer player, but in 1994 as a high school junior, he went out for the football team and impressed so much that Syracuse offered him a scholarship after just ONE year of playing football. This young man is blessed with a tremendous amount of athletic ability and he's only scratched the surface of his full potential. Below is some info on Morlon, followed by our interview.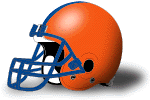 Name: Morlon Greenwood

School: Syracuse

Position: OLB

Height: 6'0"

Weight: 235

40 Time: 4.45

Draft Status: 2nd round projection

My View: Morlon is a very intelligent, very talented young man. He's only been playing organized American football since 1994 and alot of his talent has yet to be realized. In fact, I firmly believe that Morlon may have more upside than any other LB in this entire draft. With his physical gifts and football intelligence, Morlon has the potential to be a star for years to come. He's going to make an impact very early in his career. He could go as high as the late first round, but more than likely a solid 2nd rounder.


INTERVIEW:

Q: What kind of person will an NFL team be getting when they draft you?

M.G.: They'll get a very hard worker and a leader. I like to lead by example on the field and off the field. I give 100% on every play and noone will out hustle me. Off the field, I'm just your normal guy. I don't do parties or anything. I usually go to the movies and spend time with my girlfriend.

Q: What have you heard about your draft status?

M.G.: I've heard I'll be a 2nd round pick, but I'm confident in my abilities and I think whatever team gets me in round two will get a steal.

Q: What are your plans after your football career is over?

M.G.: I graduated this past December with a degree in physical therapy. I want to open a facility to help injured athletes and senior citizens.

Q: What are your three playing strengths?

M.G.: I'd say my speed for sure is one. I've always loved to run and it's paying of now. My other strengths are my strength and my football intelligence. I know the game of football and I study film more than anyone. I want to be the best, and I know that understanding my position is the most important aspect of becoming the best.

Q: Do you have any weaknesses that you want to improve on?

M.G.: I need to improve on my blitzing. When I say that, I mean my timing.

Q: Do you feel you're physically prepared for the NFL?

M.G.: Yes I am. I think I was physically ready two years ago. I know it's a 16 game schedule, but it'll be my job. I won't have to worry about school, or exams, etc., I can jusy focus on Sunday. I'm a very well conditioned athlete, so I know I can take the bruising and be ready the next week.

Q: What about mentally prepared?

M.G.: Without a doubt. I came to Syracuse because they run an NFL scheme on defense. I'm a student of the game. I study film more than anyone and I have the proper mind set before every game.

Q: Who's been had the biggest influence on your life?

M.G.: My father has been a huge influence on me. He taught me to stay humble and pray. I'm one of 12 children, so I saw my father come home tired from work everyday, and not once did he complain. He had a wonderful work ethic and he knew what he had to do. I've gotten my work ethic from him. I know that fotball is how I will support my family when that time comes. I just pray that the good Lord helps me.

Q: Talk about your high school coach and how your football career got started.

M.G.: My high school coach's name is Russ Cellan. Coach Cellan has always been there for me no matter what. We still remain very close to this day. He's the reason why I'm here. Before football I played soccer and I wrestled. Coach Cellan suggested that I come out for football and I did. It was my junior year and I had never been on a football field. I fell in love with football right away and here I am now.

Q: With everyone talking about Dan Morgan, Tommy Polley, and Quinton Caver as the top 3 OLB's in the draft, do you feel you've been the forgotten man in a way?

M.G.: I don't think I'm the forgotten man, I just feel that those guys played in a college system that showcased their abilities. Playing at Syracuse, I didn't have a chance to show people what I can really do. I feel I have the ability to come into the NFL and start from day one. All I will need is a LB coach to show me the proper technique and I feel I can become the best. Honestly, I feel I am the best LB prospect in this draft, but the others are good too.

Q: What was the combine like for you?

M.G.: It was mostly meetings and interviews. I didn't get much sleep at all. By the time testing started, I was a little tired, but overall it was a great experience. I was able to meet the coaches and scouts and I got plenty of good feedback.

Q: Was there a certain LB at the combine that you really wanted to see perform?

M.G.: Not really. All the LB's that I played with at the Senior Bowl were there so I knew what they were about.

Q: What are your goals for your rookie season?

M.G.: Well, my ultimate goal is to be the best when it's all said and done, but my rookie goals are basic. I want to come in and establish myself as a person and a player. I want to contribute anywhere that I can help the team win games. I think I can have an impact right away and I'm ready to get it rolling now.

Q: What teams have expressed the most interest in you thus far?

M.G.: I talked to almost every team, but the ones that appeared most interested were New Orleans, Dallas, and Miami.

Q: Is there a team that you've always wanted to play for?

M.G.: Not really. I didn't grow up a football fan or player. I was a soccer player. If I could stay close to home, that would be nice, but I don't have a preference.

Gambill: Thanks for your time Morlon! It was a pleasure talking with you.

Greenwood: I enjoyed it too Matt! Take care.