Recently I was able to conduct an interview with Wisconsin RB, Michael Bennett. Bennett, after his first year of starting at the collegiate level, decided to forego his senior year and enter the NFL draft. He leaves after being named 1st team All-American, 1st team All-Big Ten, and 2nd in the conference in rushing with 1,681 yards and 11 TD's. At 5'9 1/2", 207, and running a blistering 4.25/40, Bennett has established himself as one of the top RB's in this draft. Below is some info on Michael, followed by the interview.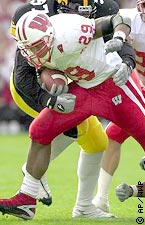 School: Wisconsin

Position: RB

Height: 5'9 1/2"

Weight: 207

40 Time: 4.25

Draft Status: Early-mid first round selection

My View: Michael was a pleasure to talk with. He's a very nice, down to earth, and intelligent young man. He's probably the fastest RB to enter the NFL since Bo Jackson. He's one of the most athletic players in the draft. He was able to come into his own in 2000 after watching and learning from Ron Dayne. Already an accomplished sprinter, Bennett gave up his Olympic dreams to focus on football. It apparently has paid off. He'll be a high first round slection and he should be able to make an immediate impact in the NFL. He's an outstanding player and person.


INTERVIEW:

Q: What kind of person will an NFL team be getting when they draft you?

M.B.: They'll be getting a competitor and a winner first and foremost. I'm a very hard working player who is always looking to get better. I give 110% in practice and on game day. When it's late in the game, I want the ball in my hands.

Q: What have you heard on your draft status?

M.B.: I haven't heard too much. I'm just thankful that I have the opportunity to play professional football.

Q: What are your plans after your football career is over?

M.B.: I want to be there for my kids and be able to raise them in a happy, supportive environment. I came from a single parent home. I didn't grow up with my father, so I know how important a father figure is to a child. I just want to be there for them whenever they need me.

Q: What are your three playing strengths?

M.B.: I think my speed is my biggest strength. After that I'd have to say my durability. I carried the ball over 300 times this past season. Last, but not least, I'd say my love for the game. I just have a passion for football.

Q: Do you have any weaknesses that you're looking to improve on?

M.B.: I'd like to improve on my pass blocking. Wisconsin is a run oriented team, so my opportunities to block were limited.

Q: Are you physically ready for the NFL?

M.B.: I believe I am. My strength and conditioning coach here at Wisconsin is one of the best in the business. I feel he's prepared me well enough to make the jump.

Q: Are you mentally ready as well?

M.B.: I'm glad you asked this question. I know I'm ready mentally ready. I grew up in the rural south, but I moved to Milwuakee with my uncle. My mom had a drug problem and I was forced to grow up at an early age. When I was in high school, I held down two jobs, ran track, played football, and took care of my sister. I've been through alot. I know what it takes to be mentally strong. I know the NFL is a tough game, but I'm prepared for it. I've worked for this opportunity for a long time. I just thank God everyday for blessing me.

Q: With everything going on around you, what are you doing to stay focused?

M.B.: I work out two times a day. I stay really busy. I like to watch movies and just relax. I like to think I can play basketball pretty well, so you can find usually find me shooting jumpers.

Q: Was it a hard decision for you to leave school a year early?

M.B.: I wouldn't say it was hard. It was a well thought out decision on my part. I took alot into consideration. I passed up a chance to run in the 2000 Olympics to focus on football. I wasn't going to let the NFL get away. This is my dream. I let one dream go, I can't let this one go too.

Q: What was it like to learn from Ron Dayne?

M.B.: It was great man. I'm happy I was able to watch him play. He's helped me out tremendously. I watched him study film and make himself into a great back. I just used what he taught me and what I saw him do and applied it to my game.

Q: What was the combine like for you?

M.B.: It was an excellent expreience. I loved meeting all the different coaches and GM's. I spoke to every team while I was there. I was able to listen to what they had to say and I took it all in. I just had a good time.

Q: What are your goals for your rookie season?

M.B.: I want to establish myself as a solid NFL back. I'll go out every week and play hard. I also hope to get consideration for the Offensive Rookie of the Year honor.

Q: When you look into the future, what do you see?

M.B.: I see a guy who's a 1,000 yard back year in and year out. I also see myself getting 500 yards in receiving every year. I'd like people to think of me as a very humble, competitive, hard working player who won the big one. We all play for that Super Bowl ring. I hope I can help a team win one.

Q: What teams have showed the most interest in you?

M.B.: The Chiefs, Panthers, Bears, Patriots, and Falcons are the teams who show the most interest. Cleveland expressed some interest too, but I'm not sure where they stand now.

Q: At your recent Pro Day, you and Chris(Chambers) both ran a 4.27. Who's faster?

M.B.: Well, I'm faster from 0-100 meters, but I think we're equal in the 40. Chris is one of the best athletes I have ever seen. The guy has a 46" vertical jump. That's just sick. I give credit where credit is due, and Chris is going to be a great NFL receiver. He still can't touch me in the 100 meters. I'll pull away(laughing).

Q: What is the biggest misconception that people have about you?

M.B.: I'm not really sure. I'm a caring and loving man. I know the incident in Febuary presented alot of questions about my character and I had to convince people that that's not the kind of person I am. I got cards and flowers from about 4,500 people showing their support. It meant alot to me because that was a real tough time in my life. I appreciate everyone's support.

Q: Personally, I think it was blown out of preportion. How do you feel about that?

M.B.: I agree. It was definitely blown out of preportion. There's no crime in Madison, so when something like that happened to a high profile athlete, everyone just made a big deal out of it. I know in my heart that I'm a good man. I present myself to people as a very good man. I take pride in who I am. It was just an unfortunate situation. I didn't have a criminal record before that happened. I've never even been suspended from school.

Q: Does it look like your name will be cleared?

M.B.: It's not resolved yet, but it appears like everything will work out in the end.

M.G.: Michael, I had a wonderful speaking with you. I hope everything works itself out. Good Luck in the NFL!!!

M.B.: Thanks Matt! I appreciate you talking with me.